Are you searching for promo codes for Apex Hotels and discount promotions for your next hotel stay in London, Bath, Edinburgh, Glasgow or Dundee? HotelsMoneySaver.com is an approved discount partner and we are delighted to promote the latest offers for this UK hotel group.
Apex Hotels is a chain of four star hotels throughout the UK, perfectly placed in the heart of the UK's favourite cities, each with their own personality and style. The stylish, spacious and contemporary bedrooms are complemented by fantastic bars and restaurants, state-of-the-art conference and events facilities.
We have recently featured a 20% PROMO CODE and now we promote our new discount. This next offer is valid for all seasons:
View 10% Offer & Open Site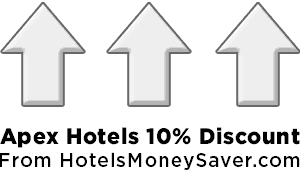 Notes regarding the offer above: receive an exclusive 10% DISCOUNT on room rates along with a complimentary upgrade (one room type higher - if available). Plus, you receive late checkout, giving you more time for exploring, relaxing or a well-deserved lie in.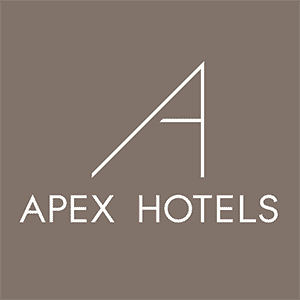 How to Add Promo Codes at Apex Hotels in the UK
Follow this simple guide to save money on your room rates:
As a starting point, please visit the official website as normal: ApexHotels.co.uk.
Click 'BOOK NOW' in the top right corner.
Select an Apex property, and enter your check in date and check out date.
Next, please add your room occupancy requirements, including the number of adults and kids for your room stay.
Please click 'BOOK NOW' again.
At the top centre of the screen, it says 'Have a Promo or Group Code?

Enter it now

.'
When you click the

Enter it now link

, it reveals the code entry fields, including:

Promo Code
Group Code
Travel Agent IATA

Please enter a valid code and then click 'UPDATE'.
And that's it! Your room rate will be discounted in accordance with your official discount offer.
UK Restaurant Collection
Apex is known for its stunning collection of fine restaurants, including Chambers, Lazy Ballerinas, The Lampery Copthall Avenue and The Lampery Seething Lane in London, The Orange Artichoke in Bath, Elliot's, Metro and Agua in Edinburgh, The Lounge in Glasgow and Quayside Bar & Grill in Dundee.
APEX HOTELS LONDON
Apex Temple Court Hotel Near London Fleet Street, England
Buried in the heart of London, a new type of luxury awaits you at this elegant 4-star hotel. Its central location, eye-catching interiors and historic façade make it the perfect Fleet Street hotel to stay for family escapes, romantic city breaks and everything in between.
During your stay at Temple Court, dine at Chambers Restaurant to enjoy the finest food or visit the chic wine bar, Lazy Ballerinas, to take your taste buds on a tour of the wines from all over the world.
Apex London Wall Hotel Near London Liverpool Street, UK
This 4-star boutique hotel adds lots of style to London's Square Mile. Tucked down a quiet street, this city centre hotel strikes the perfect balance of luxury and leisure. The Lampery, Copthall Avenue is perfect for wining, dining and relaxing, plus, this ideal location makes exploring London easy.
Perfectly placed in the City of London, this sophisticated and elegant hotel is guaranteed to make your London stay pleasurable. With Liverpool Street, Moorgate and Bank Station tube stations all nearby, this accessible location is hard to beat if you wish to get out and about to discover what London has to offer.
Apex City of London Hotel - Near St Paul's Cathedral & Tower Bridge
This 4-star city centre hotel is one of London's most stylish and is home to the most appealing destination restaurant in the area, The Lampery, Seething Lane. Serving everything from beautiful breakfasts and exciting cocktails to decadent dining and much more. Situated near St Paul's Cathedral and Tower Bridge, find yourself fully immersed in all that London has to offer.
There is lots to see and do in the area. Seething Lane was where Samuel Pepys worked (in the Navy Office) and is also buried in St Olave Hart Street church, next to the hotel. Just around the corner, you will find the attractive Trinity Square which houses the striking former headquarters of the Port of London Authority. The Tower of London is a short walk away along with the evocative Leadenhall Market.
APEX HOTELS BATH
Apex City of Bath Hotel Near Thermae Bath Spa in England
This luxurious 4-star hotel is one of the best hotels in Bath and is located just steps away from some of the city's top sights. Perfect for family breaks, romantic getaways, business meetings, events and even weddings, this city centre gem has a lot to offer. Enjoy delicious dining experiences at The Orange Artichoke restaurant during your stay at Apex.
You can start your day the right way with a beautifully cooked breakfast and finish the evening with delectable three course dinner, a bite on the outdoor terrace, or a cocktail in the stylish bar. Remember to dine at The Orange Artichoke to discover exciting dishes, bursting with flavour.
APEX HOTELS EDIBNURGH
Apex Waterloo Place Hotel in Edinburgh City Centre in Scotland
Just around the corner from Calton Hill, this 4-star Georgian hotel epitomises luxury living in the heart of Edinburgh. Find yourself stunned in the grand entranceway where the traditional features of the building are complemented perfectly by our modern fittings and super stylish touch. Its central location, lively restaurant, Elliot's, and relaxing Yu Spa leisure facilities make this the perfect Edinburgh hotel to wine, dine and explore.
This Apex property brings together modern styling with stunning Georgian features. With Edinburgh Waverley station located nearby, the accommodation is situated perfectly for your stay in Scotland.
Apex Grassmarket Hotel Near Edinburgh Castle in Scotland
Are you looking for a luxury stay in the heart of Edinburgh? Perfect for tourism and discovery, this Old Town gem is your dream destination. Situated right in the middle of the Grassmarket, the surroundings of this 4-star hotel will have you feeling adventurous as soon as you step outside. With amazing views of Edinburgh Castle from the same place you snooze, the chic restaurant, Metro, offers you the chance to unlock unique dining experiences.
What's more, there's a pool to plunge into total relaxation and lots of things to do for couples, friends and families too. This is your opportunity to feel the warmth of this city from the inside and out.
Apex City of Edinburgh Hotel Luxury Business Hotel

Cosy, convenient but most of all chic, this 4-star chic city centre hotel sits at the foot of Edinburgh Castle, close to Royal Mile, and has some of the best views in the city. Surrounded by some of Edinburgh's best sights, attractions and buzzing bars, find yourself spoiled for choice when it comes to making plans on your escape to Edinburgh. Plus, you can enjoy luxury wining and dining at the stylish hotel restaurant, Agua.
As an Apex City guest, you are also welcome to make use of the state-of-the art leisure facilities in the Apex Grassmarket Hotel, just around the corner door. There you can find the expansive gym has equipment including treadmills, free weights, resistance apparatus and a great indoor swimming pool.
APEX HOTELS GLASGOW
Apex City of Glasgow Hotel in the Centre of Glasgow
Situated in the city centre of Scotland's fashion capital, this 4-star hotel offers style and character, carefully designed for your comfort and experience. Whether you're staying in a chic room or a stunning Duplex Suite with birds-eye views of the city centre, find yourself enjoying every minute. The hotel's restaurant, The Lounge, has a stylish vibe indicative of the city itself – it's the perfect place to enjoy an unforgettable dinner experience.
This is a smart modern hotel in the city centre with 100 comfortable rooms, informal dining and basic services at affordable prices. Some upper-floor rooms have great panoramic views across the city.
APEX HOTELS DUNDEE
Apex City Quay Hotel & Spa Dundee Quayside Bar & Grill

This chic 4-star spa hotel is the perfect place for a family friendly getaway, a spa break with your best mates or a romantic escape. Located within walking distance of some of the top things to do in Dundee, the spacious city rooms and stylish suites are where adventure meets luxury. At Quayside Bar & Grill, Apex believes in honest cooking with locally sourced produce, so you can relish in fresh fine food from the land, sea, and field when you eat during your Dundee visit. Plus, find yourself drifting into a blissful state as you spend time in Yu Spa's haven before heading to your sumptuous bed after long day of exploring.
This contemporary four-star hotel is conveniently located in the stunning quayside area of Dundee's waterfront, and just a five-minute walk from the vibrant city centre. If you're arriving through Dundee airport, you'll be just a short five-minute drive to the hotel.
Next Steps to Save Money at Apex
The friendly dedicated staff at Apex strive to create memorable, personal experiences that encourage guests to share and revisit time and time again. Save 10% to 20% discount using the promo codes featured on this web page or provided through the APEX INSIDER loyalty programme and book online at ApexHotels.co.uk
.