Guoman Hotels is an exclusive collection of deluxe London hotels, namely The Tower Hotel, Great Cumberland Place, The Royal Horseguards Hotel and Amba Marble Arch. This is a collection of quintessentially British luxury hotels situated in some of London's most stellar locations.
Each of these luxury hotels in London has its own character, identity and style, from exquisite elegance at the Royal Horseguards through to contemporary comfort at Great Cumberland Place. Guoman Hotels has a reputation for providing the very best in luxury, comfort and service.
Are you searching for the best promo codes for Guoman Hotels UK? We will take you to the best offers on the internet and we show you how to SAVE 15% DISCOUNT on room rates in London and get access to the latest promotional offers where you can get discounts up to 50% OFF: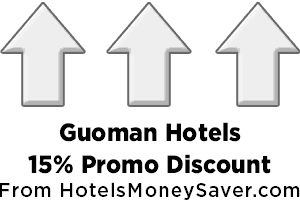 Notes regarding the offer above:
Simply choose your preferred Guoman Hotel and then sign in. Select the dates you would like to stay and also choose your preferred room type. You will receive an exclusive 15% DISCOUNT on your booking through the promo code promotion above. There is no limit to this offer and you can receive 15% OFF whenever you reserve a break with Guoman.
You can learn more about Guoman Membership through the offer above. You will also enjoy access to members-only special discounts and offers, plus you can manage your current reservations online and plan your booking reservations in the future.
Luxury British Hotels in Central London
Now let's take you through the hotel portfolio for London in more detail:
Tower Hotel London near Tower Bridge on the River Thames

Situated along the River Thames, The Tower Hotel London, brings you right into the zone of some of London's most iconic landmarks and famous locations, including the Tower of London itself, the Shard, St Katharine's Dock and much more.
As a 4 star hotel near Tower Bridge, The Tower Hotel London combines comfort and convenience with stunning views. With 801 suites and rooms to choose from, this property offers a range of bars and restaurants offering fantastic service.
With some of the best views in London, Xi Bar & Lounge at The Tower Hotel is the ideal place to relax during the day, get the party started before a night on the town, or settle down with a nightcap.
Great Cumberland Place Hotel at Marble Arch in London
Just off Oxford Street and next to Hyde Park, the Great Cumberland Place Hotel and its prime central location near Marble Arch make it the ideal base from which to discover central London and the West End.
Located in the heart of London's most iconic shopping district of Mayfair and Oxford Street, the Great Cumberland Place Hotel is also just a short walk from the nightlife in Soho and spectacular Regent Street - where you'll find the world famous Hamleys toy store. Just around the corner you will discover Knightsbridge, featuring Selfridges and Harrods.
Royal Horseguards Hotel London near Westminster in London

Overlooking the River Thames on the Embankment in London, The Royal Horseguards Hotel is stunning five star hotel which is steeped in history and quality.
With The Royal Horseguards Hotel as your base, you are within easy walking distance of Embankment, Big Ben, the Houses of Parliament, the London Eye and many more iconic locations across the centre of London.
Amba Marble Arch Hotel London near Oxford Street

This 4 star hotel is close to shopping hotspots such as Oxford Street and Mayfair, as well as a host of famous London landmarks including Madame Tussauds and Hamleys.
With outstanding modern facilities, stylish rooms and expert staff at Amba Marble Arch, you will enjoy your time at one of the best hotels near Hyde Park.
How to Add a Guoman Hotel Promo Code Discount
As you book your rooms, you will be interested to know the normal Guoman Hotels check in time is 15:00 and the normal check out time is 12:00. If you receive a discount code voucher through the official newsletter distribution or a coupon code through the VIP Member programme, please follow this guide below to pick up your discount offer:
As a starting point, please visit the official website at guoman.com.
In the middle of the screen, you will find the accommodation search bar.
Choose a hotel, enter your travel dates and then add your room occupancy requirements (the number of suites or rooms, adults and children for your stay).
Click where it says 'Do you have a promo code?'.
Now please select the right code option for your needs:

Discount Code.
Promo/Corporate Code.
Group Attendee (for weddings and events).
Travel Agency Code.

Now click the 'APPLY DISCOUNT' button.
And that's it!
Your room rate will be reduced in accordance with your authorised discount offer.
Guoman Hotels Promotional Offers & Discounts Up To 50%
Keep in touch with the latest deals through this offer below: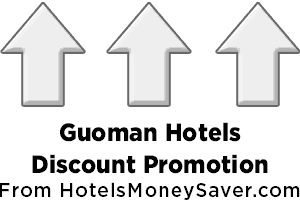 SAVE 15% - 50% : In this section, we promote the latest discounted offers where you can get up to 50% OFF when you reserve your suite or room booking. Previous deals have included seasonal special offers for Summer, Autumn, Winter and Spring along with special room rate promotions and price reductions for early booking deals (pre-book and pay in advance).
Headline offers have included seasonal deals with savings up to 50%, reduced price romantic getaway breaks, rewards gateway, 'Sunday Sleepovers' and of course the VIP Member deal at 15% DICOUNT. Choose from an exclusive collection of deluxe London properties: The Grosvenor, The Cumberland, The Royal Horseguards, The Tower and Amba Marble Arch.
This exclusive collection of deluxe hotels in London has a fine reputation for excellence and individuality and you can find out more about Guoman Hotels UK at guoman.com.