VIK Hotels has a collection of 6 attractive hotel properties located in Spain on the Costa del Sol and the island of Lanzarote in the Canary Islands, and also in Punta Cana in the Dominican Republic.
Are you searching for a promo code for VIK Hotels? We have news of the latest promotional codes and we are pleased to promote the latest discount offers providing markdown savings up to 40% OFF.
All of the properties are located close to the beach and each one of them has their own personality, combining comfort and magical locations such as the volcanic islands of Lanzarote, or the beaches of the Dominican Republic and the Costa del Sol.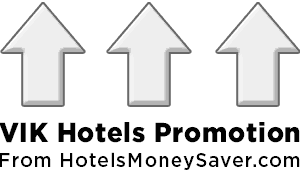 Notes regarding the offer above: this is a loyalty programme and you can enjoy advantages and special discounts on your next holiday when you join VIK Class:
Receive special discounts and exclusive benefits on your hotel room reservations.
Special Privileges: Late Check Out, Early Check In, Room Upgrade, etc.
Receive: Priority Check In, Priority Assignment, etc.
Improved services: Premium WiFi, Last Rooms Available, etc.
How to enter Promotional Codes at VikHotels.com

Please visit the official website, as normal: VikHotels.com.


Please enter a valid code where it says [Promotional Code] on the accommodation search bar on the home page, or the 'Offers' page.


Now click [BOOK HERE] and you will see the discounted room rates in the search results. Please note you can see the original prices along with the discounted room rates.


Once again, please click [BOOK HERE] to take your room purchase into the secure checkout area.


Español: [Código Promocional] = Código de Descuento >> [RESERVAR] = 10% Descuento.

Latest Seasonal Promotions SAVE Up To 40%
Now let's explore the worldwide discount offers ranging from 10% to 40%:
NEW >>> Seasonal Discount Offers <<< NEW
In this section, we promote the latest promotional offers where you can get up to 40% OFF when you reserve your room booking. Previous deals have included seasonal special offers for Summer, Autumn, Winter and Spring along with special room rate promotions and price reductions for early booking deals (pre-book and pay in advance).
Headline offers have included a Golf Special Package, Summer Early Booking Discounts Up To 25%, Web Winter Time 30% OFF, Up To 40% Discount at VIK Hotel Arena Blanca (minimum of 2 nights stay) and VIK Hotel Cayena Beach Up To 40% OFF Spring Season Offer.
HOLIDAYS IN SPAIN
VIK Hotel San Antonio, Lanzarote 4 STARS
Avda. de Las Playas, 84, 35510 Puerto del Carmen, Lanzarote, Canary Islands
Hotel Villa VIK, Lanzarote - Hotel Boutique 5 STARS
C/ Hermanos Díaz Rijo 11 (Urb. La Bufona) 35500 Arrecife, Lanzarote, Islas Canarias
VIK Coral Beach, Lanzarote 3 STARS
C/ Austria (Urb. Montaña Roja), Playa Blanca, Lanzarote, Islas Canarias
VIK Gran Hotel Costa del Sol Spain 5 STARS
Calle Butibamba 9, 29649 Mijas, Costa del Sol, Málaga
HOLIDAYS IN DOMINICAN REPUBLIC
VIK hotel Arena Blanca, Punta Cana 4 STARS
Carretera Arena Gorda, n/a Bávaro, Punta Cana, Playa de Bávaro
VIK hotel Cayena Beach, Punta Cana 5 STARS
Carretera Arena Gorda, n/a Playa Bávaro, Punta Cana, Playa de Bávaro

Next Steps
This hotel group is a different brand with a unique style and aims to make customers feel at home, just living the VIK experience. Check out the latest promo offers when you visit the official website for VIK Hotels at VikHotels.com.