Particularly popular in the US, Top Villas is one of the world's leading luxury villa rental specialists with a stunning portfolio of more than 4,000 of the finest villas in over 50 of the world's most appealing holiday destinations. With more than 20 years of experience in the villa rental industry, Top Villas is proud to be known as one of the best villa rental agents in the world, offering the best homes, the best service and the best rental rates.
If you're searching for voucher codes for Top Villas, you've come to the right place. Promotional codes for Top Villas are normally restricted by currency and the offers presented on this web page are in US Dollars, for customers in any worldwide location visiting any global destination.
If you are in the UK and you prefer to save money in GBP British Pounds, please see below. OK, let's take you to the latest promotions in USD for customers who prefer to save money in US Dollars: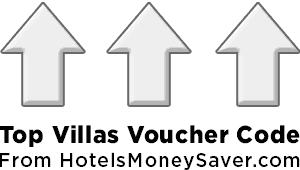 If you prefer to pay in GBP British Pounds, please visit the Top Villas voucher codes provided in our partner website HolidaysMoneySaver.com where you will find promo codes ranging from £50.00 to £100.00 targeted at customers in the UK.

Top Villas Latest Promotional Offers
Let's take you to this special promotion: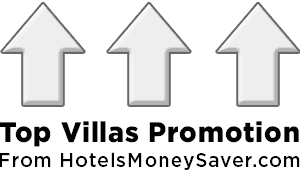 In a hurry? If you don't wish to wait for the first email newsletter distribution with the latest discount promotions, you can hop onto the live chat service (bottom right corner on the official site) and request the newest promo codes. You get replies directly through the live chat window and the chat message is duplicated and forwarded to your email account. The usual reply time from live chat is just a few minutes.

How to Add a Promotional Code at TopVillas.com
It works a little different at this travel site, so let's take you through this simple guide to save money on your next booking.
As a starting point, please visit the official website as normal: TheTopVillas.com.
On the home page, you will find the property search bar, however please note you cannot add a promo code at this stage.
Please follow these steps:
Choose a destination.
Enter your travel dates.
This will reveal a list of rental properties and the standard booking rate will be displayed on the right side.
Please click 'Choose' next to your preferred vacation villa.
When availability is shown, please click the green 'Reserve' button.
Now complete the short form with your contact details and click 'CONTINUE'.
Extras: if available for your rental property, the next screen will allow you to add extra items to your booking to enhance your stay.
To save money on the payment screen:
On the payment page, just underneath 'Cardholder name and address', please click 'Add a promotional code'.
Please enter the code where it says [Enter voucher code here...].
Now click the 'ADD VOUCHER' button.
And that's it!
Your booking rate will be reduced in accordance with your official discount offer.
Finally please enter your payment details and click 'COMPLETE PAYMENT' to pay a reduced rate on your travel booking.
TopVillas.com Reviews on TrustPilot and Facebook
Are you searching for TopVillas reviews? Are you looking for promo codes for TheTopVillas.com?
TopVillas is rated 'Great' on TrustPilot based on over 300 reviews from real customers and travellers who have used the travel booking services at Top Villas. It is worth noting that over 77% of customer reviews at Trust Pilot are rated 'Excellent'. It is also noted that the company has received many excellent reviews during the coronavirus COVID-19 pandemic at a time when many travel agents have struggled to provide good levels of customer service and timely refunds.
TheTopVillas.com has over 110,000 likes and followers on Facebook and according to their page profile, they typically reply to Facebook Messenger enquiries within a day.
Most Popular Destinations
Some of the most popular global vacation destinations at this travel site include:
ANGUILLA • BALI • BARBADOS • CALIFORNIA • CAPE CORAL • COLORADO • DISNEY WORLD • DESTIN • FRANCE • GREECE • ITALY • JAMAICA • KOH SAMUI • MEXICO • MIAMI • ORLANDO • ST BARTS • ST LUCIA • ST MARTIN • TURKS AND CAICOS
Next Steps
With offices located in Florida in the US and also in England in the UK, specialist agents are available to help you 24/7 throughout the year. Dedicated phone lines are provided for USA, Canada, UK, Australia, France and Brazil, along with a dedicated international phone line, plus you can contact the company through email at any time on info@thetopvillas.com.
With the best rates available on luxury villas, condos and townhouses, you get a personalised service and the 'Best Price Guarantee' when you book online at TheTopVillas.com.