If you're searching for promo codes for Quest Hotel and Resorts in the Philippines or Indonesia, you've come to the right place. We have details of all the hotel properties, including Quest Hotel Clark, Quest Hotel Cebu, Quest Hotel Tagaytay and also Quest Residences Cebu (serviced accommodation).
But let's start by revealing the reduced room rate offers and the latest discount promotions at Quest Hotels in Asia: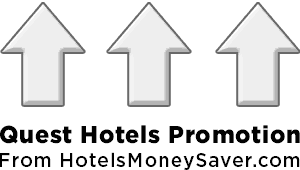 Notes regarding our most recent promo code offer: Get a Special Room Rate at Quest Hotel & Conference Center – Cebu.
This Discount Package Includes:
Receive a special discounted room rate.
Save up to 20% discount on food and beverage.
Offer valid until the end of the year.
Subject to availability.

4 Star Quest Hotel Reviews from TRUSTYOU

You can view the feedback reviews from hundreds of guest customers directly within the QuestHotelAndResorts.com website. In reviewing the website, please note the review service is provided by 'TRUSTYOU' and you can get access to a star rating system. For example, the Quest Hotel & Conference Center in Cebu is rated 'VERY GOOD' based on over 4,900 verified reviews with a summarised score of 4.3 out of 5.
The 'TrustScore' is the standard for reputation, summarising verified reviews and comments from various sources. Similarly, the Quest Plus Conference Center Hotel in Clark is also rated 'VERY GOOD' based on over 1,500 verified reviews with a summarised score of 4.3 out of 5.
Quest Hotel & Resorts in the Philippines
The Quest Hotels collection is owned by Chroma Hospitality, an accommodation chain that has built 4 different brands to cover all markets, from city hotels to luxurious beach resorts.
Now let's introduce the key hotel properties in Cebu, Clark and Tagaytay:
Quest Hotel & Conference Center – Cebu
Archbishop Reyes Avenue, Cebu City, Philippines
This is a three star hotel with facilities such as a modern gym exclusive to hotel guests, swimming pools for both adults and kids, function rooms for corporate meetings and social gatherings like birthdays, debuts, wedding receptions and Christmas parties. PWD (people with disabilities) accessible rooms are available on request.
The hotel has 427 guestrooms and suites including 5 executive suites fitted with bath tubs and 37 premier deluxe rooms with balconies. The corner deluxe rooms offer 180 degree views of the city with two sides of the room fitted with floor to ceiling glass windows (these are most requested room category of the property).
Quest Hotel Cebu offers comfortable stay with rooms fitted with hot and cold shower, mini bar, safety deposit box, 24 hour room service, all-day dining restaurant, massage service, business center and swimming pool.
Quest Plus Conference Center, Clark
Mimosa Drive, Filinvest Mimosa + Leisure City, Clark Freeport Zone, Philippines, 2023
Quest Plus Conference Center in Clark is an appealing destination for business functions and staycations. Its meeting rooms are set up with the latest boardroom equipment, providing an excellent venue for your meeting and conference needs. The Grand Ballroom can host mid to large-scale conferences and social events.
This hotel has 303 cool, clean, and comfy rooms, with fantastic views of the garden, poolside, golf course and the rest of Mimosa Leisure Estate. Quest Plus Clark rooms are fitted with hot and cold shower, mini bar and safety deposit box. Choose to dine at the all-day buffet restaurant, bar, or have 24 hour room service. Take exercise in the gym, have a splash at the swimming pool, or perfect your swing at the 36-hole golf course.
Quest Hotel Tagaytay
Fora Rotunda Tagaytay, Emilio Aguinaldo Hi-way, Silang Crossing East, Tagaytay, 4120 Cavite
Quest Hotel, Tagaytay is your top destination for relaxation, family bonding and vacations. An ideal place for guests looking for great value for money and an escape in the south located right in the heart of Tagaytay City. Prepare for its cool climate and visit to see the world famous Taal Volcano.
Quest Serviced Residences Cebu
Archbishop Reyes Avenue, Cebu City, Philippines
Quest Serviced Residence provides the comforts of home while enjoying the cool, clean, and comfy experience of hotel living at Quest Hotel & Conference Center Cebu.
The serviced residence has One-Bedroom and Two-Bedroom unit options with a scheduled weekly cleaning service, wifi access, telephone, cable tv, in-room safety deposit box, and access to Quest Hotel facilities such as the swimming pool, fitness gym, and business center. Residents also enjoy 24 hour room service, 10% OFF in-room massage service, along with special discounts for buffets at Puso Bistro & Bar.
Quest Hotel Dumaguete
Quest Hotel and Conference Center, Dumaguete offers a view to discover the pristine beauty of Dumaguete. The hotel has 180 rooms and a Hospitality Lounge.
Quest Puerto Princesa
This hotel features 300 rooms and a Hospitality Lounge, creating a new benchmark for comfort and hospitality in Palawan.
Explore new worlds of flavor with a garden dining experience, as you enjoy an international and local buffet. Cap off the night with drinks at Lounge Bar or Outdoor Pool, as you relax and unwind with signature cocktails and drinks.
Quest Hotel & Resorts in Indonesia at QuestHotels.com

Quest Hotels also offer a collection of modern stylish hotels in Indonesia, located in Bali, Semarang, Borneo / Kalimantan, Surabaya and Cikarang. Please note there is a different website address for reserving rooms in Indonesia and you can book discounted rooms and suites at QuestHotels.com.
Bali
Quest Hotel Kuta
Quest Hotel San Denpasar
Borneo / Kalimantan
Quest Hotel Balikpapan

Cikarang
Quest Hotel Cikarang

Semarang
Quest Hotel Simpang Lima - Semarang
Quest Hotel Pemuda - Semarang

Surabaya
Quest Hotel Darmo - Surabaya



How to Enter a Promo Code at QuestHotelAndResorts.com

Simply follow this guide below to save money on your next room booking or luxury suite reservation at Quest Hotels & Resorts:
As a starting point, please visit the official Quest website as normal QuestHotelAndResorts.com.
On the right side of the screen you will find the hotel booking feature.
Firstly choose a hotel property, either Cebu, Clark or Tagaytay.
Enter your arrival date.
Enter your departure date.
Choose your room occupancy: number of adults, children and rooms required.
At the bottom of the screen, click [PROMO CODE].
Now [INSERT PROMO CODE] in the space provided (the special code revealed on this web page above).
Please click the button 'OK, done'.
And that's it!
Now click 'Check Availability'.
Your room rate will be reduced in accordance with the authorised discount offer.
This will take you to the room booking system.
The default currency is 'Philippine Peso'.
At the top of the screen, you can change the currency for your country.
Please select your preferred room options and click 'DETAILS & BOOK'.
Click the 'RESERVE' button to continue with your discounted room offer.
Finally add your contact details and click 'CONTINUE' to take your room or suite booking into the secure payment area.
Next Steps to Find the Best Offers at Quest Hotels

SAVE 10% TO 20% : Get the best room rates when you book direct and you can view the latest discount offers in the Philippines on QuestHotelAndResorts.com or Indonesia on QuestHotels.com.