We have a new promo code for Guitart Hotels for 2020 and news of the latest special promotions, meaning you could save 5% to 20% on your next stay in Catalonia.
Guitart Hotels is a hotel chain with 6 properties of 3 stars and 5 stars in the Catalonia region of Spain. These hotels are suitable for families, couples, business people and groups. Quality properties in great areas include apartments at the foot of the skiing slopes in La Molina, in Barcelona city centre for shopping or on the Costa Brava beach.
View Promo Code & Open Site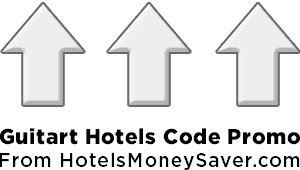 How to Save Money on your Booking at Guitart Hotels
To start, as normal please visit: GuitartHotels.com ...the official site.


On the website home page, where it says 'PROMOTION CODE', please enter the code above.


Select your hotel, enter your dates, add your occupancy requirements (number of adults/children) and click 'BOOK'.


Catalá: CODI PROMOCIONAL (Codi de Descompte) >> RESERVAR (CA).


Deutsch: AKTIONSCODE (Gutscheincode) >> BUCHEN (DE).


Español: CÓDIGO PROMOCIONAL (Código de Descuento) >> RESERVAR (ES).


Français: CODE PROMOTIONNEL (Code de Réduction) >> RESERVEZ (FR).


This will reveal the discounted room rates.


Guitart Hotels, Spain: book your stay in Costa Brava, Barcelona or La Molina, and get 5% off with this voucher coupon code above.


Expiry date: book before 31/03/2020.


Offer is valid exclusively on the Guitart official website, subject to availability.


Italiano: Codice di Sconto (IT).


Nederlands: Kortingscode (NE).
2020 Seasonal Promotions at 5% to 20% Discount
View the latest discount offers
which have included discounts for a 2 night stay, reduced room rates for a 3 night stay, last minute deals and long stay offers (minimum 3 nights) providing up to 20% discount, all subject to availability.
Accommodation Properties in Catalonia, Spain
LLORET DE MAR
Hotel GEM Wellness & Spa ***
Treat yourself to a spa holiday in a unique tourism and health centre in Lloret de Mar in a privileged location, close to Fenals Beach.
Guitart Central Park Aqua Resort ***
This family hotel in Lloret de Mar invites you to enjoy a holiday resort full of facilities and activities.
Guitart Gold Central Park Aqua Resort ****
Specially designed for holidays with your family, the Guitart Gold Central Park Aqua Resort **** Hotel offers you a family resort in Lloret de Mar located in an ideal environment, between the sea and the mountain.
Guitart Rosa ***
The Guitart Rosa Hotel*** is located in the centre of Lloret, perfect for couples and groups who look for fun during their holidays. Situated only 200 metres away from the beach, the hotel takes up an ancient colonial house that owns a special charm in its gardens, besides offering an outdoor swimming pool, free buffet, parking, Wi-Fi... and entrance with drink to the Gran Casino Costa Brava, located 500 metres away.


BARCELONA
Guitart Grand Passage Hotel ****S
At the Guitart Grand Passage****S Hotel, you can enjoy a hotel near Avenida Diagonal in Barcelona. It offers facilities for business travellers and city break holidays. You can stay in a recently refurbished hotel in Barcelona and book a deluxe accommodation at an unbeatable price.


LA MOLINA
Guitart La Molina ****
Your ski holidays in La Molina take on a special meaning at the Guitart La Molina****. Offering Aparthotel & Spa accommodation in the mountains with great services, this complex is located in one of the best natural settings in the Catalan part of the Pyrenees. Enjoy your apartment in the ski resort of La Molina with a capacity up to 8 persons.
Next Steps
Check out the latest seasonal offers and promotional codes when you visit the official site: GuitartHotels.com
for Guitart Hotels.