You can book between 1 and 6 rooms in a single transaction at the FERGUS Hotels hotel group and we provide the best room rates for groups, multiple rooms and events. This hotel firm has 11 hotel properties in Spain located in most appealing areas of Ibiza, Mallorca (Majorca) and Cadiz.
If you are searching for the best offer, you can save 10% discount online, so please read on to learn more.
Ideal for weddings and small group events, use a discount promotion or promo code to make sure you get the best online deal for your group holiday. In a single online transaction, you can book the following accommodation:
Rooms: between 1 to 6 rooms.
Adults: between 1 and 4 adults per room.
Children: between 0 to 4 children (3-14 years old) and 2 babies (up to 2 years old).
Duration: flexible long stay e.g. 90 nights.
If you prefer, you can reserve your booking by making lower value multiple transactions and you can also share this offer with other people travelling within your group.
Are you searching for the best promo code for FERGUS Hotels in Spain? We have news for you today because this year we have already featured multiple discount code offers including a 10% exclusive code and more recently a promo code offer providing discounts up to 40% OFF at FERGUS Hotels in Majorca (Mallorca), Ibiza and Cadiz: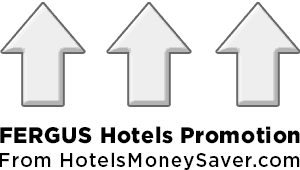 How to Enter a Promotion Code at FERGUS Hotels

Quick and easy, please follow this simple guide to get the best room rates at this Spanish hotel group:
As a starting point, just visit the official website as normal: FERGUShotels.com.
At the top of the screen you will find the accommodation search bar.
Choose a hotel and destination (Mallorca, Ibiza and Cadiz).
Select your 'ARRIVAL' date and 'DEPARTURE' date for your holiday or business trip.
To save money, click 'GUESTS' and this will reveal the room occupancy screen.
At the bottom, please enter the code above (or copy and paste) where it says [PROMOTIONAL CODE].
And that is how to save money on rooms at FERGUS.
Simply click the 'APPLY' button and your room rates will be reduced in accordance with this approved discount offer.
When you go through to the booking page, your discount offer and code will be displayed on the right side of the screen.
Please note you also get the best price guaranteed.
Finally take your discounted room into the secure payment area to complete your booking reservation.
Deutsch : [Promo Code / Aktionscode] = Gutscheincode >> Suchen / Buchen: - 10% Rabatt.
Español : [Código Promocional] = Código de Descuento >> Buscar: - 10% Descuento.
Français : [Code Promotionnel] = Code de Réduction >> Rechercher: - 10% Remise / Les Rabais.
How to Book Extra Rooms at FERGUS Hotels in Spain
When you search and find bedrooms using the main accommodation search bar, please note the default search is for one room only. After the initial search has been performed, the accommodation search results will appear and then simply click 'SELECT' next to your preferred room option. When you see the 'BOOK' button displayed, that is the time to add extra rooms by using the small drop-down menu next to the 'BOOK' button. The number of rooms you can select will vary depending on which hotel property you have chosen, which room grade type you have selected and also depending on room availability.

FERGUS Hotel Destinations in Spain: Ibiza, Cadiz & Majorca (Mallorca)

Let's take you through the resort hotel destinations from this Spanish hotel group starting with Ibiza and then moving onto Cadiz and Mallorca:
FERGUS Style Bahamas Hotel : Playa d'en Bossa - Ibiza
Just a few steps from the best clubs in the world, FERGUS Style Bahamas has a Spa & Wellness area, bars, restaurants, a gym and a large outdoor swimming pool.
FERGUS Conil Park Hotel : Conil de la Frontera - Cádiz
Located in Conil de la Frontera, this 4 star family hotel is located on the beachfront and offers privileged views over the spectacular beach of La Fontanilla. The FERGUS Conil Park hotel has a large outdoor pool and beach bar with sea views.
FERGUS Style Tobago Hotel : Palmanova - Mallorca
This stunning 5 star hotel will entice you with the sunshine, beach, large pools and sunbathing terraces. FERGUS Style Tobago is situated overlooking the sea and bars which are always lively, with exclusive restaurants offering exquisite gastronomy.
FERGUS Style Palmanova Hotel : Palmanova - Mallorca
This seafront adult-only hotel is conceived as a Mediterranean oasis in which to enjoy the authentic calm of Mallorca without having to give up any of its fun. Facilities at FERGUS Style Palmanova include a swimming pool with sea view, restaurant and roof top terrace with bar.
FERGUS Style Cala Blanca Suites Hotel : Santa Ponsa - Mallorca
FERGUS Style Cala Blanca Suites is a 4 star resort with sports facilities, a games zone, a restaurant, a heated covered pool and a huge outdoor pool with sea views and pool bar.
FERGUS Style Soller Beach Hotel : Port de Sóller - Mallorca
Located in the heart of the Sierra de Tramuntana on the seafront of Puerto de Sóller, this beach resort is a comfortable 4 star hotel with spectacular views and fantastic surroundings. Facilities at FERGUS Style Soller Beach include an outdoor pool, restaurant and sauna/massage services.
FERGUS Bermudas Hotel : Palmanova - Mallorca
This 4 star all-inclusive hotel is located in Palmanova in Mallorca. FERGUS Bermudas hotel has an outdoor pool with pool bar, restaurant, gardens and a meeting room for business use or small events.
FERGUS Club Europa Hotel : Peguera - Mallorca
Ideal for a family adventure, FERGUS Club Europa offers the Pongus Splash Pool with 6 large water slides, video games room, the Pongus miniclub, a games zone, sports facilities, a lounge bar and restaurant.
FERGUS Club Vell Mari Hotel : Ca'n Picafort - Mallorca
This is a 4 star family resort located near the beach at Son Bauló in Mallorca. Sport, gastronomy, relaxing by the pool, strolls, family activities and games, and magical evenings are all available at FERGUS Club Vell Mari.
tent Capi Playa Hotel : Playa de Palma - Mallorca
Located just a few metres away from the beach, tent Capi Playa is a hotel in Playa de Palma, designed with a fabulous camping lifestyle in mind. This eco concept accommodation at tent Capi Playa is focused on travellers and facilities include a bar, social area and gym.
tent Playa de Palma Hotel : Playa de Palma - Mallorca
This is your bed and brunch destination in Mallorca in one of the liveiest parts of the island. tent Playa de Palma has 3 swimming pools, a gym, bar, reception and social area.
Long Duration Booking for Extended Stay Trips at FERGUS Hoteles
The FERGUS Hotel website is optimised for long-stay trips, making it ideal for business travel.
Most hotel booking sites will only allow you to book accommodation for trips lasting between 1 day and 30 days. However, the good news is that FERGUS Hotels will allow you and your guests to book a long duration stay, subject to room availability. In reviewing this website, HotelsMoneySaver.com was able to reserve a booking lasting up to 60 days and even 90 days.
Ideal for business trips or long holidays, subject to room availability when you place your booking, simply select your check-in dates and check-out dates, and choose the exact number of days you require at the hotel of your choice.
Best Room Rate for Groups & Extra Rooms at FERGUS Hotels
With direct bookings, you get the best price guaranteed, a welcome pack, and free wifi along with exclusive offers and you can find out more at FERGUShotels.com.