Azuline Hotels has a portfolio of 15 hotel properties located in most appealing areas of Ibiza, Mallorca (Majorca) and Menorca (Minorca). The accommodation is targeted for all type of holidaymakers, including 'Pet Friendly' and 'All Inclusive' properties designed for families, couples or young travellers looking for an economic stay in the most popular islands of the Mediterranean. HotelsMoneySaver.com is an authorised discount partner and we have featured several different promo code offers on this web page in recent weeks.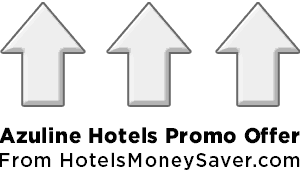 Notes regarding the offer above: this is a loyalty programme and you enjoy advantages and special discounts on your next holiday:
8% DISCOUNT on booking hotel rooms and suites for reservations made at the official website.
Free Wi-Fi.
Late check out: option of keeping your room after 12:00 noon (subject to hotel availability).
Express check in (check in once you have settled into your room).
TV remote control without needing to pay a deposit.
Free beach towel (deposit required).
10% DISCOUNT on snacks at swimming pool bars.
20% DISCOUNT on Green Fee at GOLF IBIZA.
For Ibiza Hotels:
Free sauna session at the Hotel azuLine Bergantín and azuLine Hotel Atlantic.
10% DISCOUNT at the HOYO19 restaurant, Sa Flama restaurant and Mar Amantis patisserie.
10% DISCOUNT at the Punta Arabí Restaurant and Grill of the Es Canar Hippy market (every Wednesday).
You can save up to 5% to 30% on your room booking and we have featured multiple promo code deals for Azuline Hotels throughout the year:
2021 - 2022 Promo Code Offer For AzulineHotels.com

Español: Código Promocional (Código de Descuento).


Deutsch: Gutscheincode (Ermäßigungscode / Gutscheine Rabatt).


Please remember to come back and visit this web page again when we feature the latest promo codes for 2022.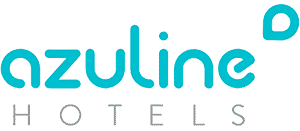 30% Discount Offers for Azuline Hotels in Spain
This website features regular seasonal special offers throughout the year for hotels and apartments in Ibiza, Mallorca (Majorca) and Menorca (Minorca). Discover the latest short-term and long-term promotional discounts for 2021-2022, including:
Last minute offers providing up to 30% discount.


New seasonal offers for Spring, Summer, Winter and Autumn at 12% to 30% discount.


Early booking discounts - plan ahead, book in advance and save up 10% to 20%.


Kids stay free - at selected hotels.
Promotions have tended to peak at 30% during the year and the biggest discount normally occurs at Black Friday and Cyber Monday when you can SAVE up to 30% discount and get access to a 12% discount code promo offer.
View List >> All Hotels << View List
Let's explore the 15 hotels in Spain located in Ibiza, Majorca and Minorca:
Ibiza: San Antonia
azuLine Hotel Galfi **
azuLine Hotel Llevant *
azuLine Hotel Pacific ***
azuLine Hotel S'Anfora & Fleming **
Ibiza: San Antonia Bay
azuLine Sunshine apartments **
azuLine Hotel Bergantín ***
azuLine Hotel Mar Amantis & Mar Amantis II ***
azuLine Hotel-Apartmento Rosamar ***
Ibiza: Santa Eulalia - Es Canar
azuLine Club Cala Martina Ibiza **
azuLine Hotel Atlantic ****
azuLine Hotel Coral Beach ***
Ibiza: Santa Eulalia
azuLine Hotel Mediterráneo **
Mallorca (Majorca): El Arenal
azuLine Hotel Bahamas & Bahamas II ***
Mallorca (Majorca): Palmanova
azuLine hotel Palmanova Garden
Menorca (Minorca): Es Mercadal
azuLine Marina Parc Apartment Hotel ****
This hotel group offers you the option of reserving transfers from Ibiza airport to any of the hotels in Santa Eulalia, Es Canar, Bahía de San Antonio or San Antonio. They have vehicles available for guests for individual or group transfers. Please notice that the transfer service is only available in Ibiza island.
When you book direct at AzulineHotels.com, you get the benefit of free cancellation (subject to terms and conditions), free wifi and you get the best price guaranteed on your holiday accommodation booking.