We are going to offer you a new promo code for HotelsByDay, the cool website where you can book hotel rooms and suites for daytime use, saving you a lot of money when compared with the standard room rates for an overnight stay.
OK, let's have a look at this worldwide discount promotion for the HotelsByDay website: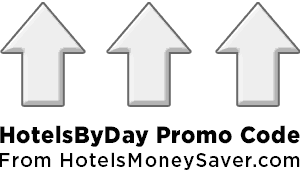 How to Save Money on Hotel Room Day Rates
To start, please visit the official Hotels By Day website as normal: HotelsByDay.com.


For the purpose of your booking, please enter your 'Country', 'City' and 'Pick a Day'.


This will reveal a listing of hotels and available rooms for daytime use.


When you select a 'Day Room', you will clearly see the day use 'Check-in' and 'Check-out' times for your chosen day.


On the left side in the middle of the screen, please enter the code above and click 'VALIDATE THE PROMO CODE'.


And that's it! In the top right corner, you will see your reduced room rate and you will also see exactly how much money you have saved today.


There is also a handy 'Payment Summary' at the bottom of the screen displaying a breakdown of your savings.


Please note you must book before 31st December 2020 to qualify for this deal (however we are pleased to say this offer is valid for stays throughout the year).


Simply fill out the short booking form click 'CONFIRM NOW' to complete your reservation.

Getting the Most from HotelsByDay
Save money on expensive night rates, this legit service is ideal for:
Daytime rest when travelling or dayuse during busy business trips.


Hosting business meetings or conducting interviews.


Day trips or a special romantic encounter.


Catch up on sleep during long haul travel or long business trips.
Get More from your Day Trips
How to make this service work for you:
Have a luxurious base and a great meeting spot for your group.


Take advantage of daytime hotel services, such as pools, spas, and gyms.


Get ready for an important event, such as a wedding, dinner or job interview.


Book a room for day use to shower and rest.

Earn Points with Membership Benefits
For additional savings and perks, you can sign up to earn points:
Accumulate points for each room booking.


Progress to Gold Membership.


Earn free stays with points.


Quicker bookings with pre-filled reservation form and faster checkout procedure.


View your booking history.


Bookmark your favourite hotels around the world.


Concierge service.


Travel Agent access.
Your Questions Answered
The website has produced an excellent guide with FAQs and useful tips. Find out more and visit the official website today: HotelsByDay.com.