You can book between 1 and 4 rooms in a single transaction at Guitart Hotels and we aim to provide the best room rates for groups, multiple rooms and events. This hotel chain has 6 properties of 3 stars and 5 stars in the Catalonia region of Spain.
Ideal for weddings and small group events, use our promo code discount to make sure you get the best online deal for your group holiday. In a single online transaction, you can book the following accommodation:
Rooms: between 1 to 4 rooms.
Adults: between 1 to 8 adults per room.
Children: between 0 to 4 children.
Duration: flexible long stay.
If you prefer, you can reserve your booking by making lower value multiple transactions and you can also share this offer with other people travelling within your group.
How to Book Multiple Rooms: the initial booking search on the home page is for one room only. When you reach the booking engine, simply click 'ADD' to add extra rooms to your booking, to a maximum of 4 rooms in a single transaction.
We have a new promotion code for Guitart Hotels for 2019, we will introduce the latest special offers and this means you could save 5% to 20% on your next stay in Catalonia.
Let's start by revealing the new code promo:
View Promo Code & Open Site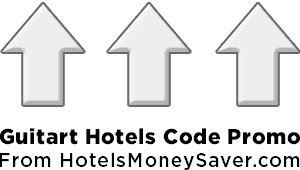 Guitart Hotels Promotion Code Booking Discount

To start, as normal please visit: GuitartHotels.com ...the official site.


On the website home page, where it says 'PROMOTION CODE', please enter the code above.


Select your hotel, enter your dates, enter your occupancy requirements (number of adults/children) and then click 'BOOK'.


This will display the discounted room rates in the search results.


Catalá: CODI PROMOCIONAL (Codi de Descompte) >> RESERVAR (CA).


Deutsch: AKTIONSCODE (Gutscheincode) >> BUCHEN (DE).


Español: CÓDIGO PROMOCIONAL (Código de Descuento) >> RESERVAR (ES).


Français: CODE PROMOTIONNEL (Code de Réduction) >> RESERVEZ (FR).


Book your accommodation in Costa Brava, Barcelona or La Molina, and get 5% off with this discount coupon code above.


Expiry date: you must book before 31/03/2020.


This offer is only valid at the Guitart official website, subject to availability.
2020 New Promotions Providing 5% - 20% Discount
Check out the newest promo offers
which have recently included discounts for a 2-night stay, special reduced room rates for a 3-night stay, last minute price markdown deals and long stay offers (minimum 3 nights stay), all providing up to 20% discount, all subject to availability.
Listed Properties in the Catalonia Region of Spain
LLORET DE MAR
Hotel GEM Wellness & Spa ***
Guitart Central Park Aqua Resort ***
Guitart Gold Central Park Aqua Resort ****
Guitart Rosa ***

BARCELONA
Guitart Grand Passage Hotel ****S

LA MOLINA
Long Duration Booking for Extended Stay Holidays
At first glance it appears you can only book online accommodation for 30 days, however that is not the whole story, so please read on to learn more.
Most hotel booking sites will only allow you to book accommodation for trips lasting between 1 day and 30 days. However, the good news is that Guitart Hotels in Catalonia will allow you and your guests to book a long duration stay. Ideal for business trips or long holidays, subject to room availability when you place your booking, simply select your check-in dates and check-out dates, and choose the exact number of days you require at the hotel of your choice.
Next Steps
View the latest seasonal offers and discover the new promotional codes when you visit the official site: GuitartHotels.com
for Guitart Hotels.