Are you searching for group rates and the lowest prices for your hotel rooms? It is not immediately obvious, but you can actually book up to 10 rooms at Barceló Group Hotels a single online transaction:
Rooms: between 1 to 10 rooms.
Adults: between 1 to 4 adults per room.
Children: between 0 to 3 children.
Duration: flexible long stay.
This is ideal for small wedding party groups or events. To book multiple rooms for your group, when you are selecting your dates and destination, click 'Double' and then select 'Multiple', as shown in the picture below: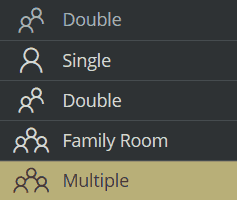 Extended Stay Trips for Long Stay Vacation Trips

Most hotel booking sites will only allow you to book accommodation for trips lasting between 1 night and 30 nights. However, the good news is that Barcelo will allow you and your guests to book a long duration holiday. When you place your booking, simply select your check-in dates and check-out dates, and choose the exact number of days you require at the hotel or resort of your choice.
Group Rate Discounts SAVE up to 15% Discount

We show you how to get up to 15% discount at Barcelo when you book online. If you prefer, you can reserve your booking by making lower value multiple transactions and you can also share this offer with other people travelling within your group.
Barceló Group Hotels New Promotional Code

Now let's explain how to use the code:
You can enter the code on the hotel search page.


Or, you can enter the code on the final page before you reach the payment page. Simply click the arrow where it says : 'Applicable Discounts'.


Next, where it says 'Do you have a discount code?', simply enter the code shown above and click 'APPLY DISCOUNT'.

Optional Extras: To make your stay even more enjoyable, you can add on extras to your booking, including birthday cake, late checkout, buffet breakfast and airport transfers.
Barceló Group Hotels SAVE up to 30%
Now let's explore the worldwide 10% to 30% options:
VIEW >>> Discount Promo Code Offers
<<< VIEW
Español: Codigo Promocional ~ Deutsch: Angebotscode ~ Français: Code Promotionnel ~ Italiano: Codice Promozionale ~ Português: Código Promocional ~ Türkçe: Promosyon Kodu ~ Polish ~ Kod Promocyjny.
When you reach the 'Offers' page, please select from the latest deals available. Destinations can include: Morocco ~ Granada ~ Italy ~ Dubai (Occidental - IMPZ Dubai Conference & Events Centre) ~ Madrid ~ Barcelona ~ Dubai Marina Residences ~ Prague ~ Allegro Playacar ~ Royal Hideaway Playacar.
With over 230 hotels in over 20 countries worldwide, we have the best deals available. The group offers 4 main types of accommodation:
Royal Hideaway Luxury Hotels & Resorts.


Barceló Hotels & Resorts.


Occidental Hotels & Resorts.


Allegro Hotels.